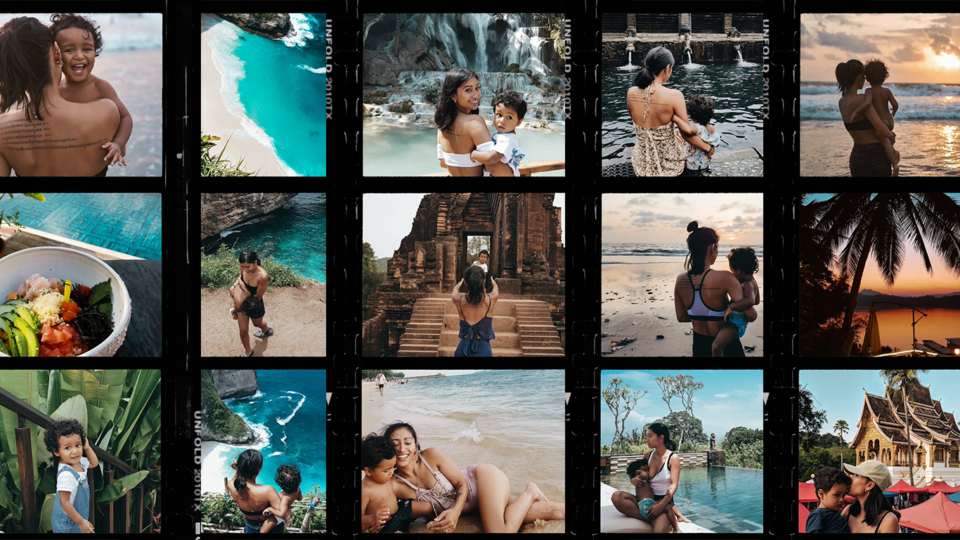 Southeast Asia road trip with my baby
Hello ! I hope you are doing well 🙂
I went on a road-trip, with my little baby, to Southeast Asia. And I wanted to make the most of our trip. Today, I share with you my big moments of my trip and I give you a "little" summary of my adventures with my son Julian.
Traveling with a baby
Four months ago I decided to go alone with my son to Southeast Asia. I dreamed of doing this kind of trip when I was younger (at least before having a child) and now I think I should take the plunge with my son Julian. It's unusual to see single moms doing road-trips with kids, but we can do it. It's not impossible. And it was the best way for me to stimulate my son by travelling through Southeast Asia. I wanted to find a 6-month job in Bali at the first place.
Unfortunately, I couldn't find a job and the days go by. I'm stagnating, thinking it's about time I got off my ass, so I bought my round trip flights tickets to Bangkok to stay during two months. This the cheapest way to buy tickets to land in Southeast Asia (I advise you to take your tickets on Tuesday as they are generally much cheaper).
I decide to leave and return to Bali and see my grandmother again in Phnom Penh. All I wanted, is to make that trip happen before Julian is going to school.
Departure for Bangkok
My best friend brought me at the airport and at this moment… I still didn't realize that I was going on an adventure with my son.
I stayed confident until when my friend left me but then, when I arrived on the plane, I panic a little bit, I was thinking "what the hell am I getting into? "I had chills. I'm doing some bad scenarios. I told to myself that I will be lost and I will be alone during my entire stay. I was overthinking.
But another part of me was too excited ! I was saying, "I'M GOING TO DO IT, WE ARE GOING TO MAKE IT"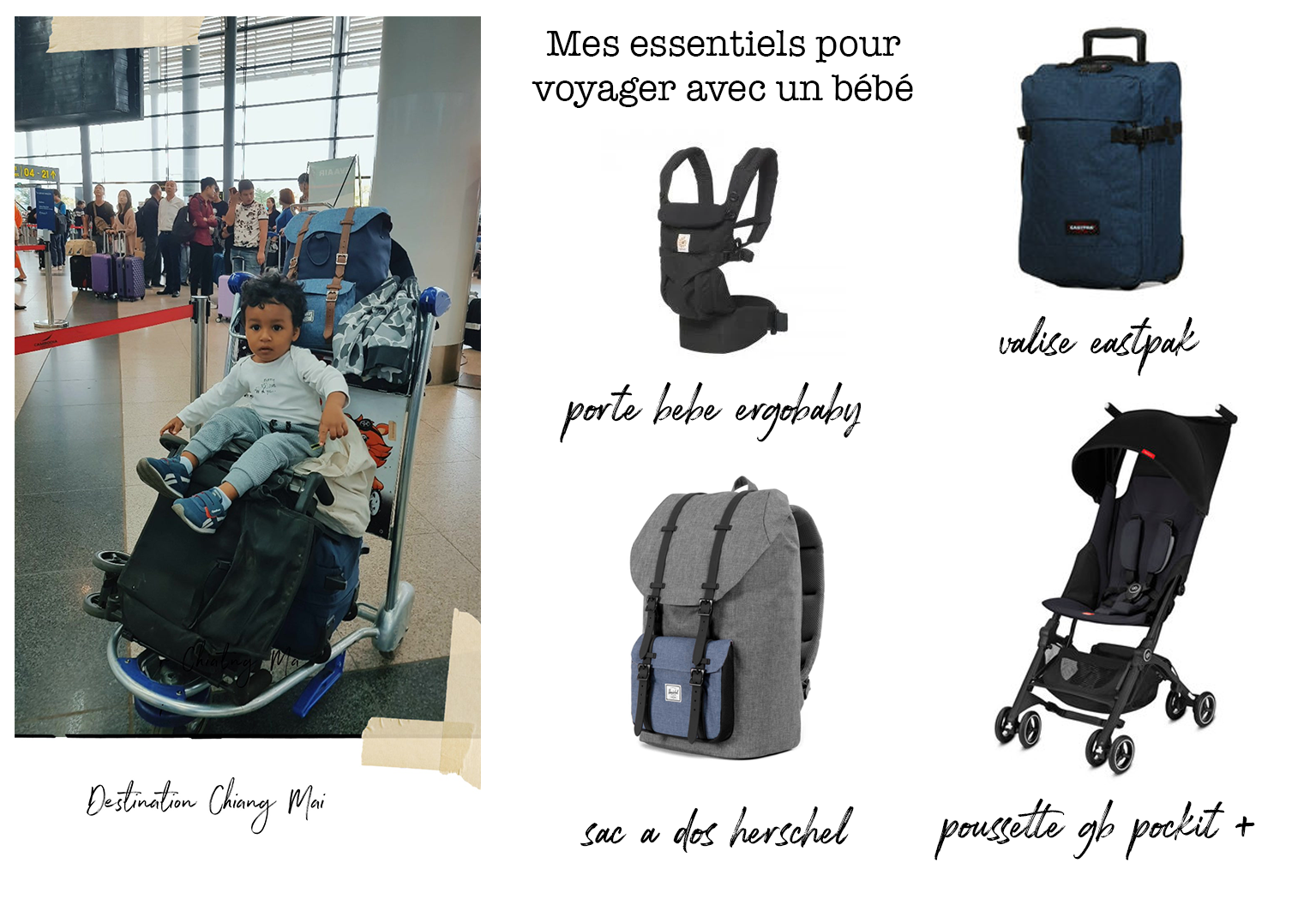 Backpack Herschel – Travel stroller GB pockit + – Babycarrier ErgoBaby – Cabin luggage Eastpak
After a long flight, I was so happy to arrive. When we had to do the tourist Visa, it was quite fast because the staff allowed me to cut the line. So after that, we took a taxi to head to our hotel that I book a week before.
During the ride, I was so proud of me while I was looking the city and I was so happy. I was excited to be there with my son. Like in the movies where the girl is in the taxi and discovers a new city through the window. Wondering what's going to happen to me during this stay?  It was like a dream.
When we arrived at the hotel in Bangkok, the staff was so adorable and took care of us so well. My hotel was located in the center of Bangkok but I was really next to a street, where bars and nightclubs were held. It was not great for my son Julian but Thai people were really welcoming and smiling towards my son. I didn't feel judged at all because I was alone with my son while it was quite late.
The next day, I went around to see how I could move in a street with Julian because I couldn't see myself taking the tuk tuk or taxi because of traffic and the pollution… In short, I got lost but I also found myself. I knew how to take the subway and the skyline which are super clean and easy to use.
At the end, I started to get to know Bangkok really well. I had the chance to meet some people. And also I had the chance to see my friend Dalia , an architecture student in Bangkok, to spend a short day with her. She didn't have much time because she had to study. I also met the mother of a friend I had met last year in Bali and Logan, a young student doing his internship and finally a famous youtube girl Nobluk who was too adorable… I just spent a super cool week in Bangkok with amazing people but also enjoying my time alone with my son. We also spent a really good time enjoying the rooftop pool at our hotel:)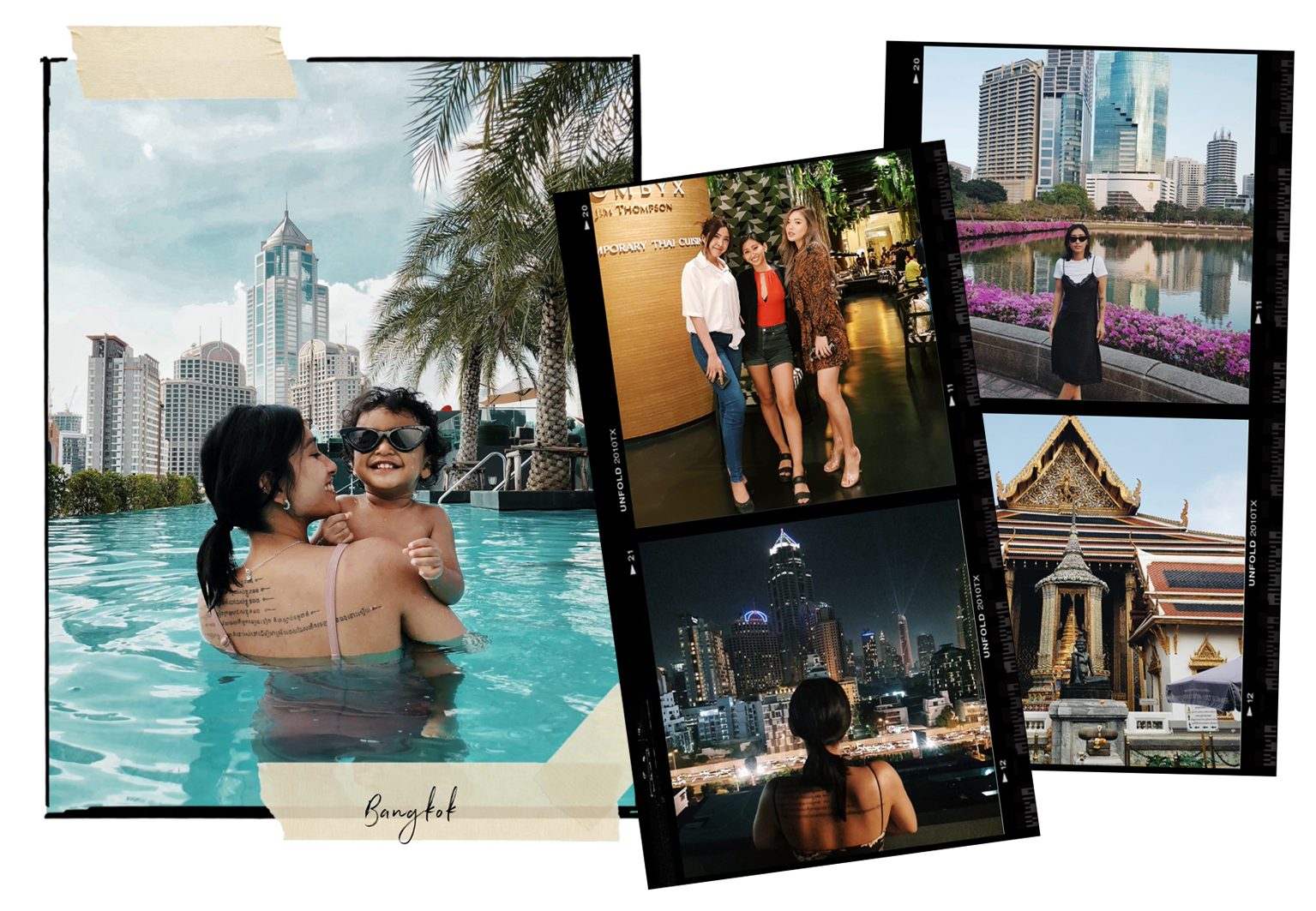 Head to Bali for 3 weeks
After spending a nice week in Bangkok, we left the city to head to Bali. I hadn't planned any itineraries to Bali because I had already been there last year and I knew a little about the island. I wanted to go back because I was a little frustrated that I left too early last year. When I am frustrated, I am forced to satisfy my desires.
We spent 3 weeks in Bali and settled in a superb hotel that was located between Seminyak and Canggu. I spent a few days there there to relax and to do the places I wanted to do in Canggu.
After a few days, I was a little bored because I didn't meet many people. So I change hotels in Seminyak and my friend from Bali who actually works in Nusa Lembogan joins me for there for a weekend.
We went to with him for a few days to Nusa Lembogan, a small island where he works. He didn't have much time to give me, so I was a little lonely. I was able to take a short trip to Nusa Penida to discover Klingking beach and some beaches.
Then, we spent a few days in Ubud so that Julian could see the monkeys at the Monkey Forest but once again, I knew this place. We couldn't give bananas this time to the monkeys anymore because it's not allowed anymore to have contact with the monkeys.
After Ubud, I decided to take a ticket to Bangkok and stay there for a week to spend time with my friend Dalia. Because this time she had time to give me.
It's cool traveling alone, but when you have no one to talk to for a long time, you get a little crazy. So going back to Bangkok was a good decision. And I think Bali is a destination for young people, families and couples. For everyone but not for us. Next time I will go back to Bali, I will make sure that we will be surrounded. 
Back to Bangkok for a week
Since I was alone with my son in Bali, I was really happy to go back to Bangkok and meet my friend Dalia. We spent time together, we went shopping. She had to find presents for Christmas before returning to Lithuania. We met almost every day before she went home. I was really happy to spend time with her. It's better to be well accompanied than to be alone. (My son doesn't count because he doesn't speak…)
And then, a day later, my best friend Alain and his friends were in Bangkok. We had a great time before we left the city on our own. We did the night market and then we were in a tuk tuk with music, Julian was dancing, we had a smile. I was so happy to see them again, especially on the other side of the world, when we rarely see each other in Paris.
In short, this week in Bangkok, it was a pure joy. I'm already missing just you writing this article! And, frankly, if you have no one to share memories with, travelling alone, it quickly gets boring.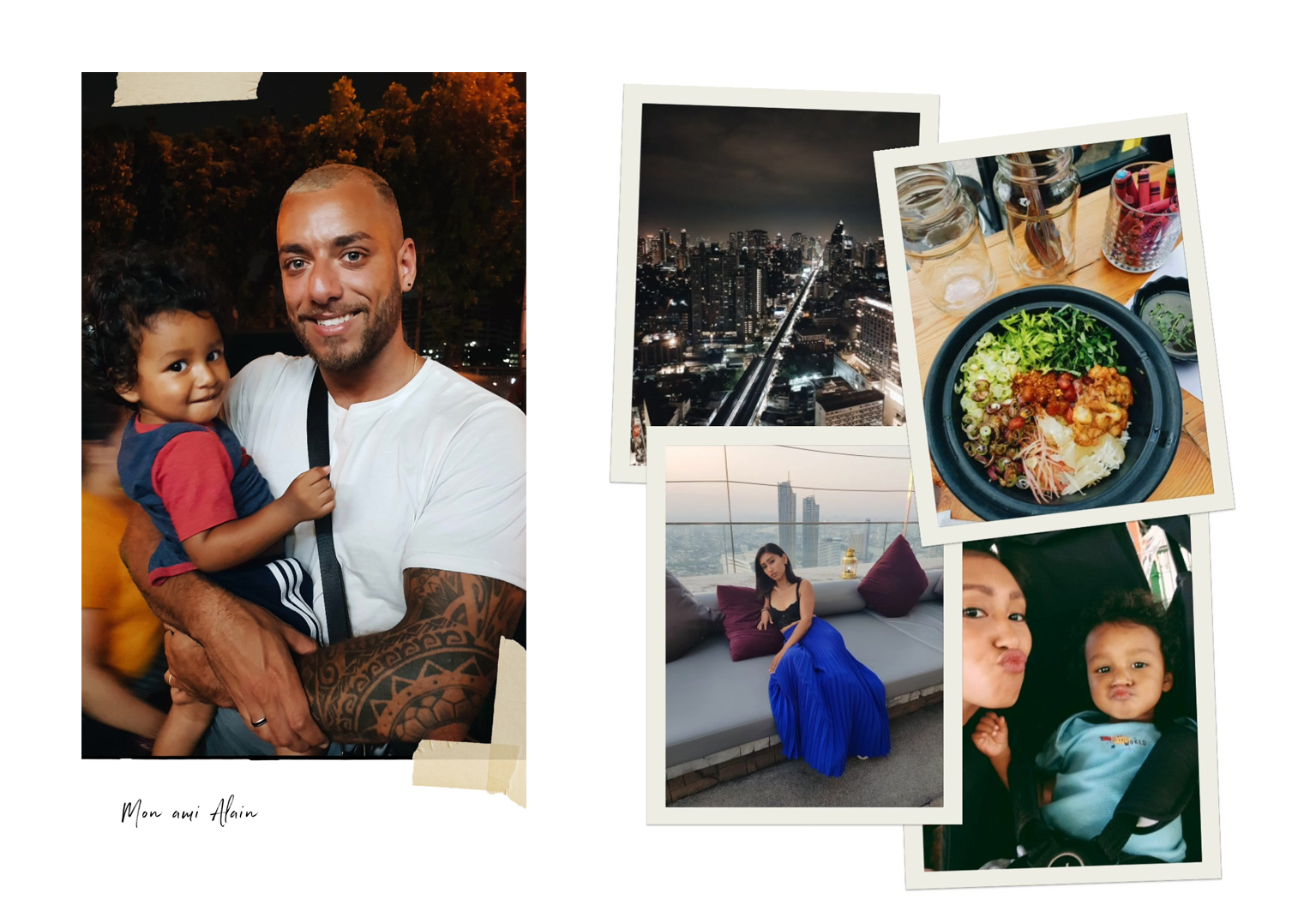 Next step, we head to Phnom Penh in Cambodia
Yes, if I am going through Bangkok, I have to go through Cambodia! It's in Phnom Penh, where my dear grandmother lives and I absolutely had to introduce my little Julian. I was looking forward to meeting them and seeing them reunite.
When we arrived at Phnom Penh airport, she was already there to welcome us. It was just too moving when they met (I don't even have any nice pictures of them). I could see that my grandmother was happy to see Julian.
The last time I left my grandmother was more than 2 years ago, when my grandfather died and now I'm coming back with a big baby. My whole family was so happy to see my little Julian. So I spent Christmas and New Year's Eve in Cambodia with my family. Knowing that at the beginning, I wanted to stay in Bali until New Year's Eve. I'm glad I left instead and enjoyed my family.
I met some great people on the spot and my girlfriend Margaux and her mom came to say hello at home for the new year:) I also had a great weekend with an American guy named Julian in southern Cambodia.
Then a few days later, my sister Sojati also came to Phnom Penh. We were able to do a mini road-trip in Kep and enjoy the beach and taste fruits like durian and mangosteen. Do you know it?
Plus, we have the chance to visit Sihanoukville with my friend Julian that I met in Phnom Penh (yes he's got the same as my son) and we spent a really nice time there. But actually Sihanoukville, it's not a great place to be because chinese people are building some casinos and hotels. So it becomes a super dirty place. Wouldn't recommend it.
After a month in Cambodia, I wanted to continue travelling and I didn't want to go back to Paris. So I decided to cancel my flight to Paris and extend my stay by two months to discover Thailand, Laos and Vietnam…
So I decided to go on a road trip and join a group of guys I met in Phnom Penh.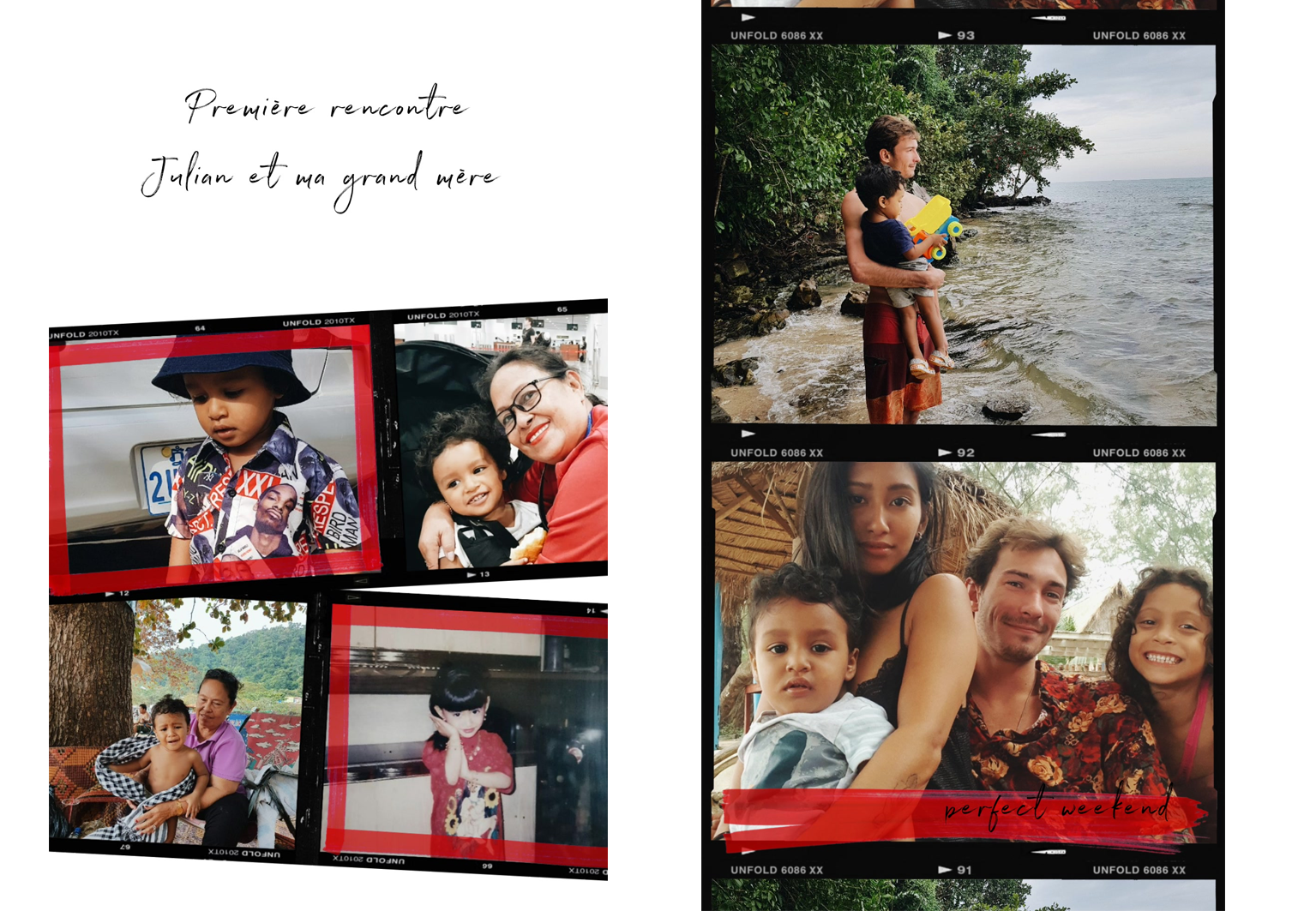 Two months of road trip in Southeast Asia 
When we arrived in Chiang Mai, we stayed a few days in this city. We were able to make the elephant sanctuary to celebrate its second birthday. Chiang Mai's flagship activity.
Then we left for a 3-day road trip from Chiang Mai to Luang Prabang in Laos. It was for me, my most beautiful experience of this trip when I was never tempted by Laos. All I was interested in was discovering the Kuang Si Falls that we talk about so much.
Day 1: We left Chiang Mai by bus to reach the border of Thailand and Laos and then arrive in Huai Xai. We spent the night there so we could take the slow boat the next morning
Day 2: We take the boat that crosses the Mekong River and admire the scenery that Laos offers us to reach Pakbeng.
Day 3: We end with a last day by boat and meet some very cool people. After a long and pleasant cruise, we finally arrive in Luang Prabang
Arriving in Luang Prabang, we gradually discovered this city and we mainly took the opportunity to relax after this mini road-trip.  I loved admiring Kuang Falls If I wanted to swim there (it was too cold). We played bowling, and we often chill at the Utopia, lounge bar, the backpackers' meeting place.
Luang Prabang is the ideal destination, if you want to enjoy the beautiful landscapes, eat well and enjoy the calm that Laos offers. Of course, it's not a big city, but I fell in love with it.
Then I left the boys and we went down to Vang Vieng in a minivan. The roads were dented and I just wanted to die. But we survived it, especially Julian. Even if he had done his big errand, just as we were leaving! We had to stop to change it ahah.
Vang Vieng is a perfect place for young people because they offer interesting activities for people who like to have fun. Like tubing but also kayaking and/or tree climbing… For our part, we had a good time in a beautiful hotel with a swimming pool.
Finally, we went down to Ventiane. Where I first experienced my first backpacker life, staying in a youth hostel. I was afraid that I would be denied access because of my baby, but I tried anyway.
When we arrived at the hostel, we received no comments and the staff was too kind to us. So I had some great encounters and I'm glad I did, because I felt a little lonely.
After spending 3 weeks in Laos, we were heading for Ho Chi Minh!!!!!!
My best friend Melanie joined to Vietnam !
My friend Mélanie joins me in Vietnam because I had encouraged her to come two months earlier:) Finally, we got together with the boys so we could do the road trip together!
We started by discovering Ho Chi Minh and making the tunnels of Cu Chi and the Mekong Delta. We did the tourist activities, it's not going well.
Then we left for Mui Ne, where the dunes and the Fairy Stream are located. We also ate very well there!
Then we continued to head to to Nha Trang in a sleeping bus. It was a great experience for me because we were in a group and throughout the trip we discovered beautiful landscapes. In Nha Trang, we took a little trip that was too cool and discovered some beautiful beaches. Otherwise, my friend had a bad experience of snatching a scooter and stealing it…. So be careful with your bags if you go through Vietnam.
After leaving the boys, we left with Melanie for Hoi An. We did tourist activities such as basketball, learning to cook, visiting temples and finally discovering the old town of Hoi An. We also took the opportunity to make custom-made costumes but also dresses. I can't wait to make looks with it, by the way.
During this stay in Hoi An, we also discovered the Golden Hands Bridge, and the Ba Na Hills amusement park located at the top of the mountain in Da Nang. And then after two days of intensive activities, we just wanted to relax at the beach.
We ended our stay in Vietnam in Hoi An, without being able to go to the North of Vietnam. We thought we'd come back sooner or later to finish discovering Vietnam.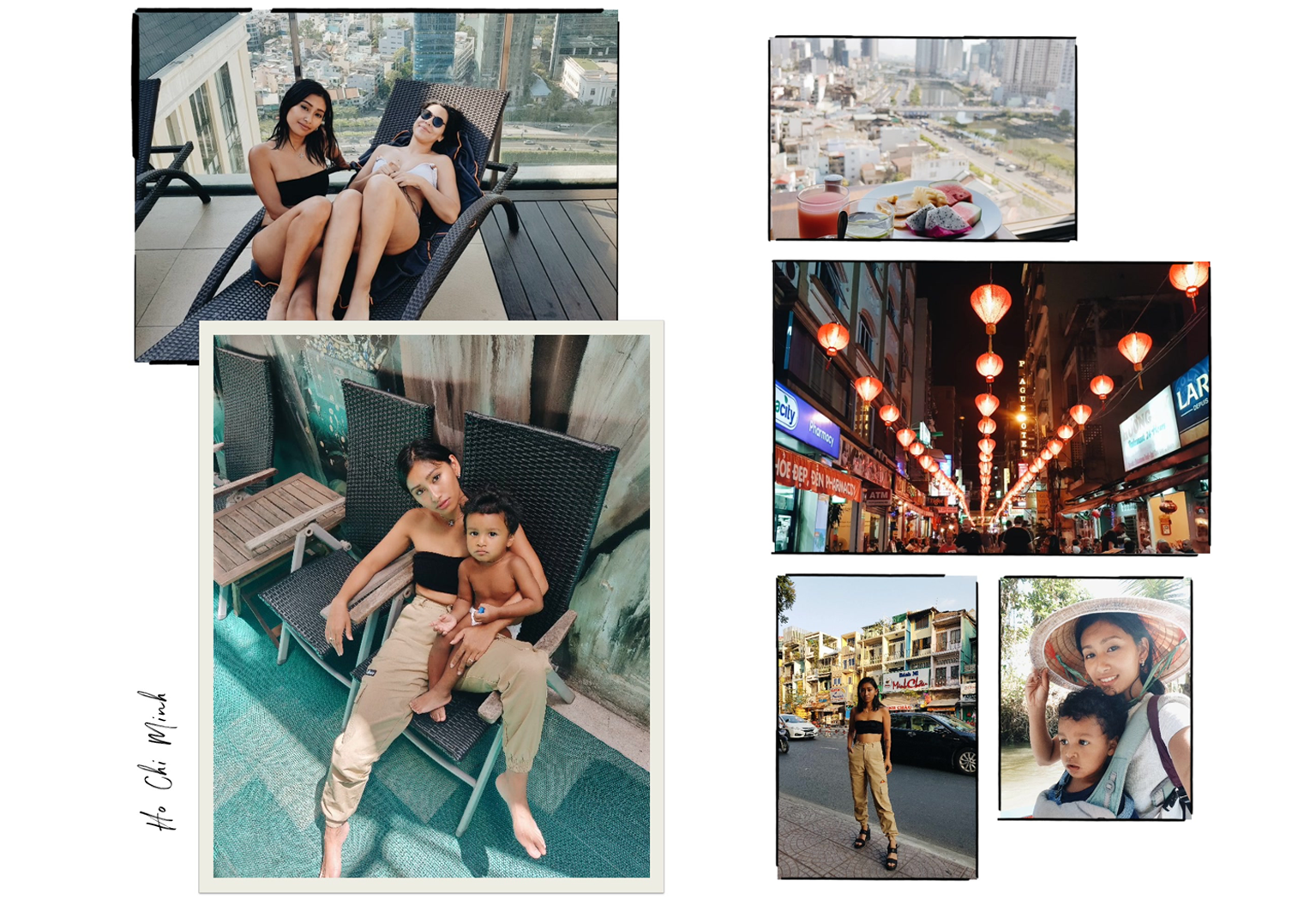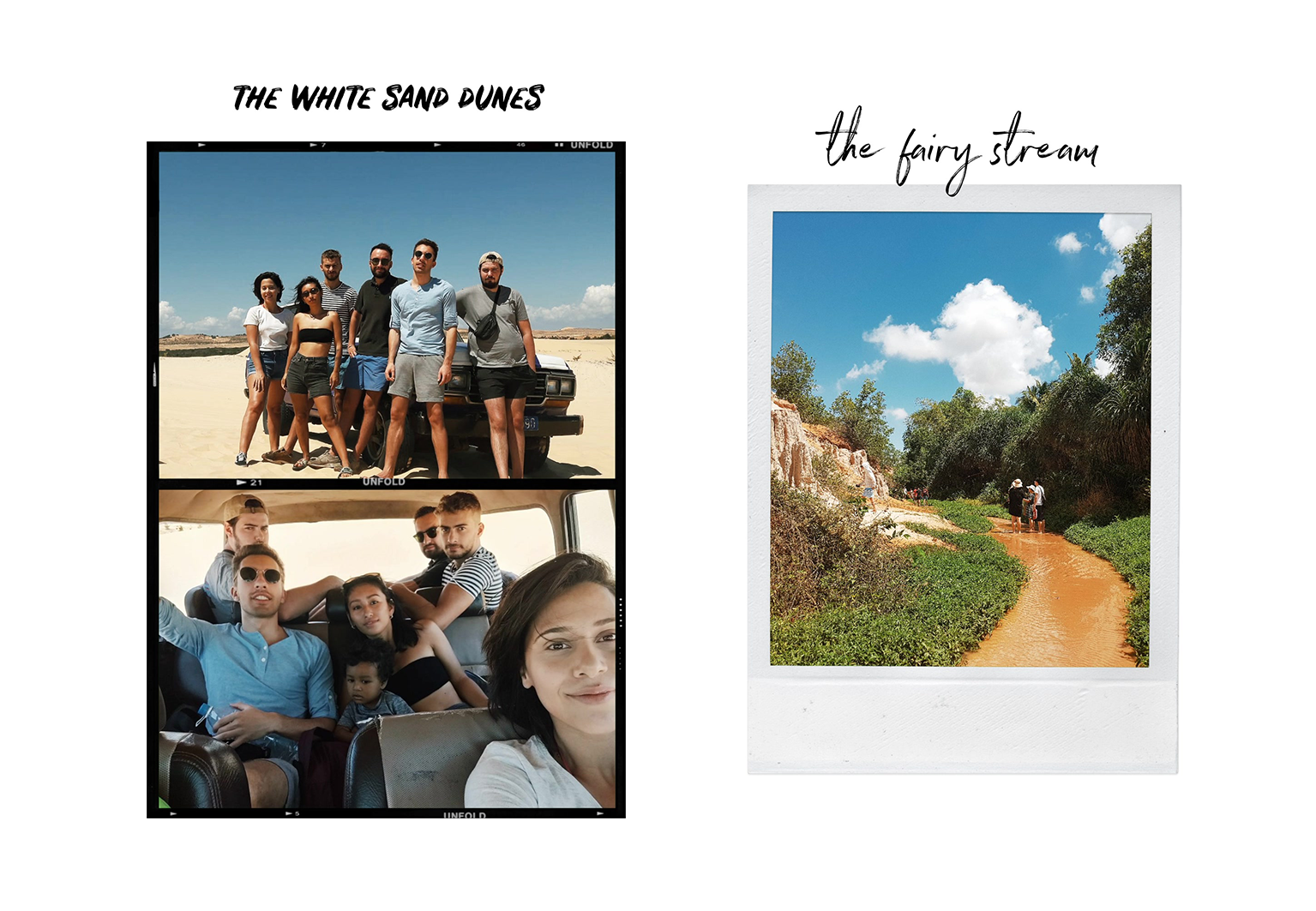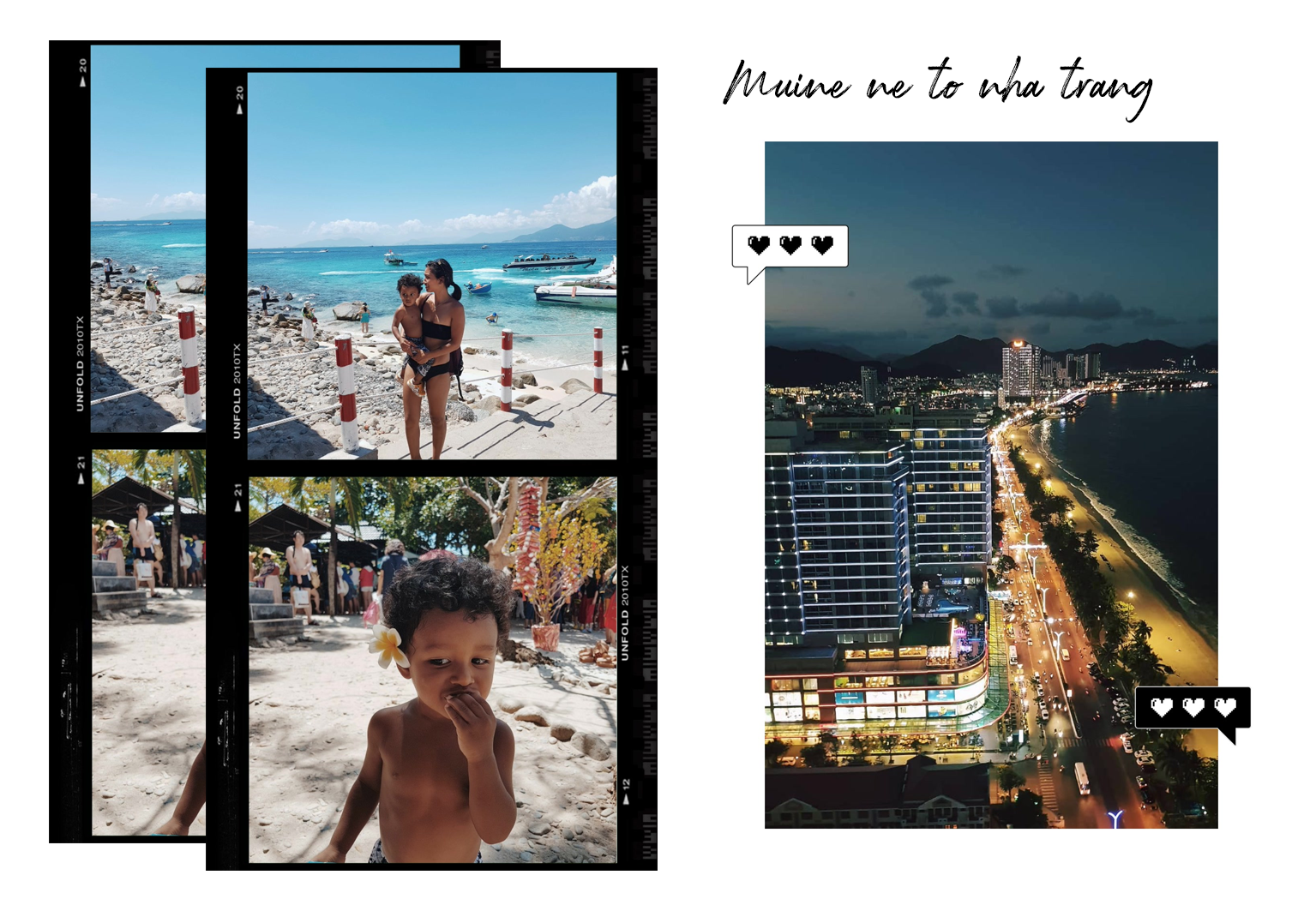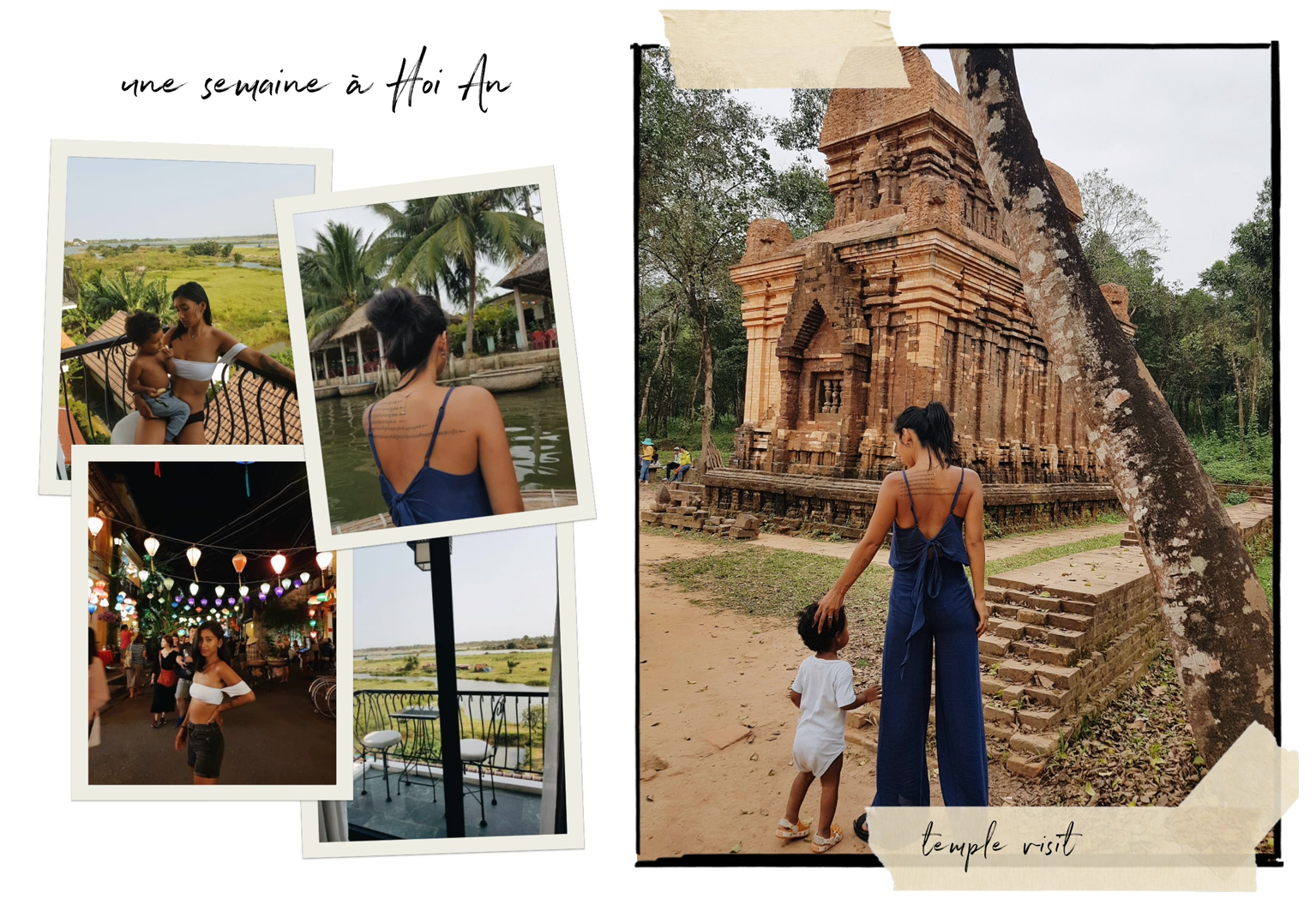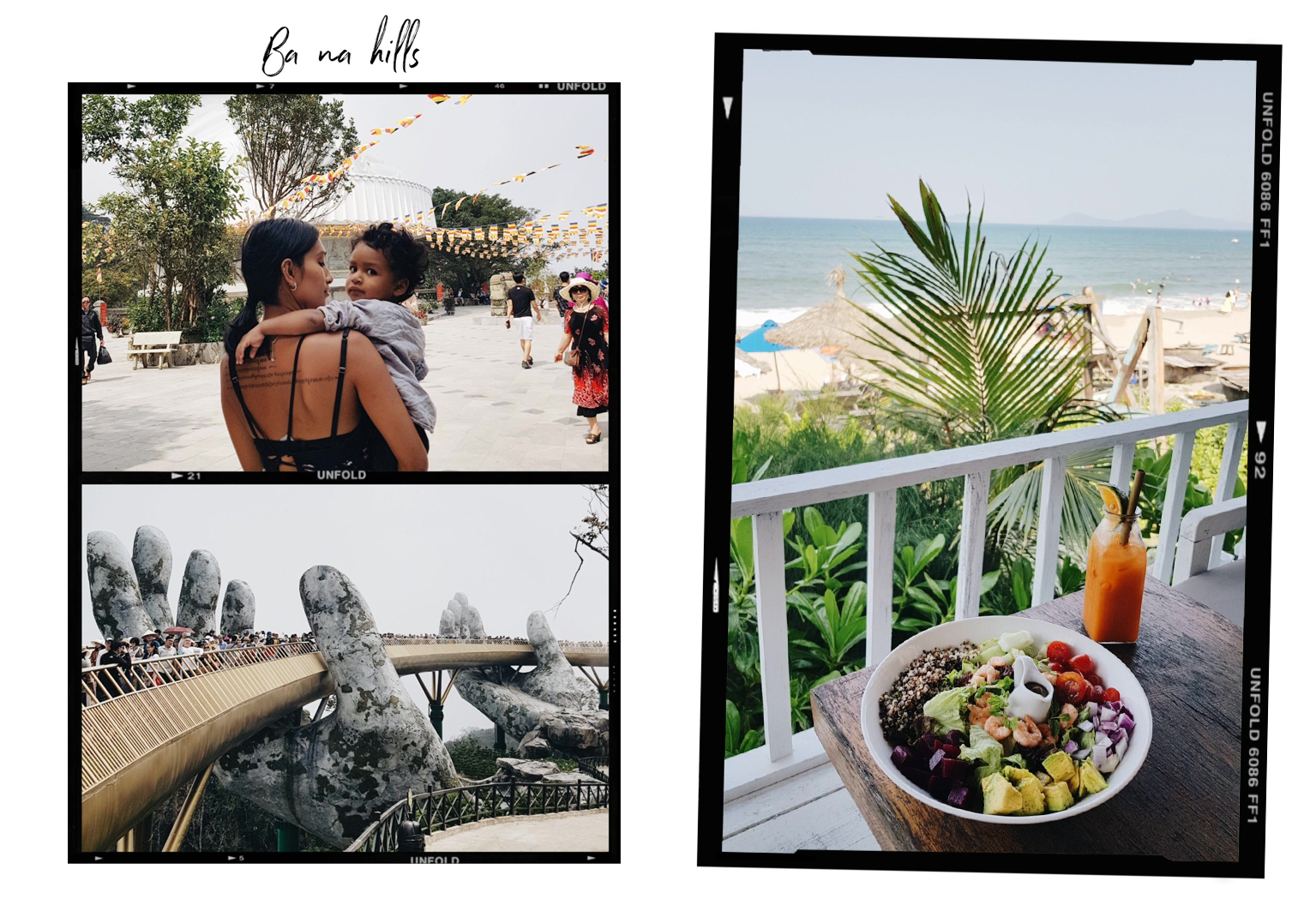 Last destination : Phuket
I ended my stay with Gaspard, a Frenchman, who I met in Ventiane, Laos, in Phuket. He was on a road trip to Thailand and I took the opportunity to join him. Besides, we agreed to spend the week chilling. So we had a good time together, on the beaches of Surin, as you can see on the pictures!
I am happy that I had a great week before returning to France.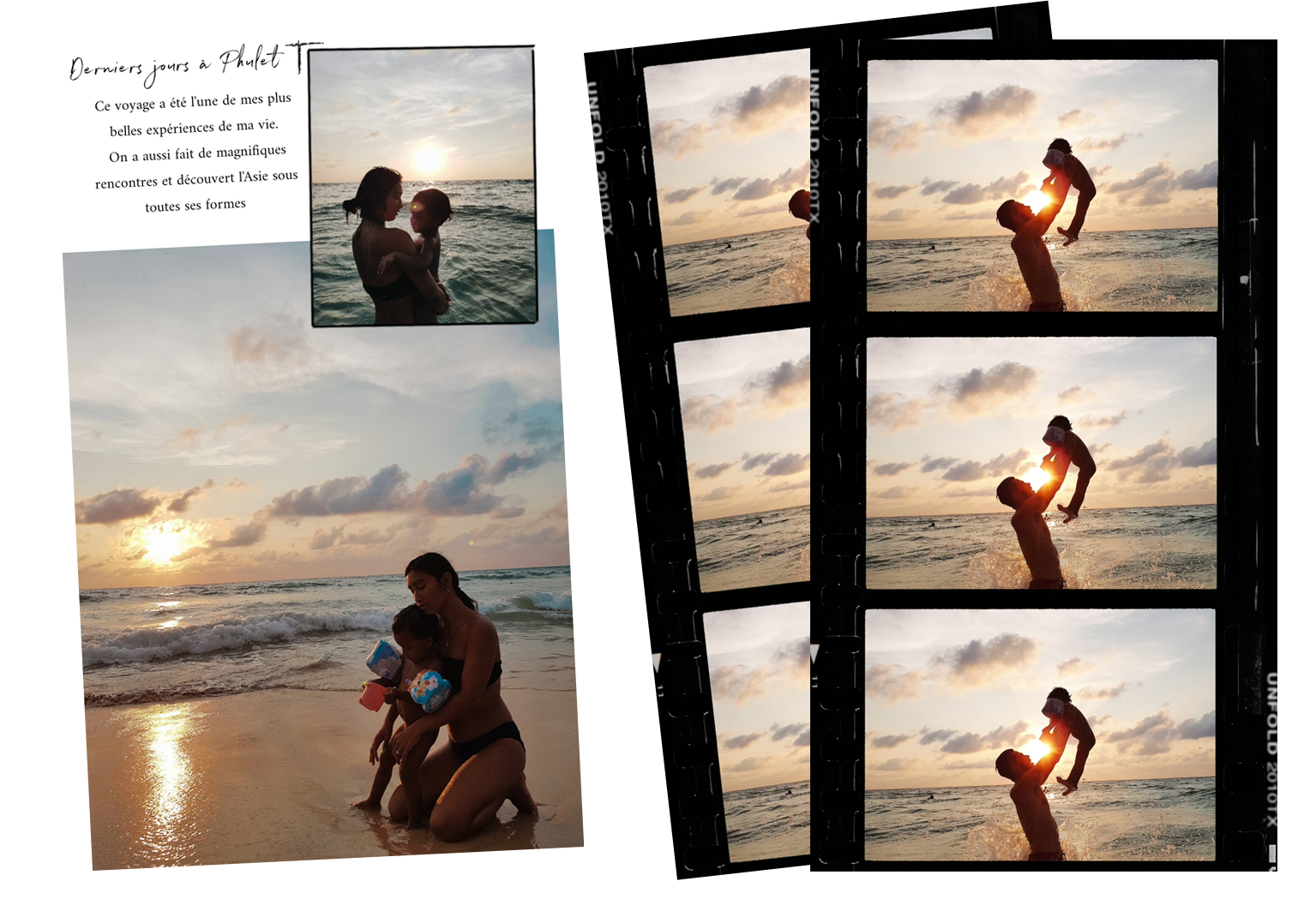 So much for this summary, which is quite long, but not complete, because otherwise it would be much too long.
I had a wonderful experience with my son. Never in my life did I think I would be able to make this kind of trip alone with him. We took all the possible transports (boat, sleeping bus, van, plane, tuk tuk, scooter…) and my son never made me miserable. Except for the last week, when he had his "terrible two" seizure. In itself, it was not complicated when the people around us are there, reaching out to you.
Julian did a great job and I'm too proud of him. I hope with all my heart that he loved this trip as much as I did and I thank all the people I met throughout my trip. For giving us the smile and for taking care of my son. It was the most beautiful thing I've ever done in my life, and I admit that I regret a little that I didn't do it before (before having a child).
I experienced something strong and I am proud to have done it with my son.
Find me on instagram @shewanderlost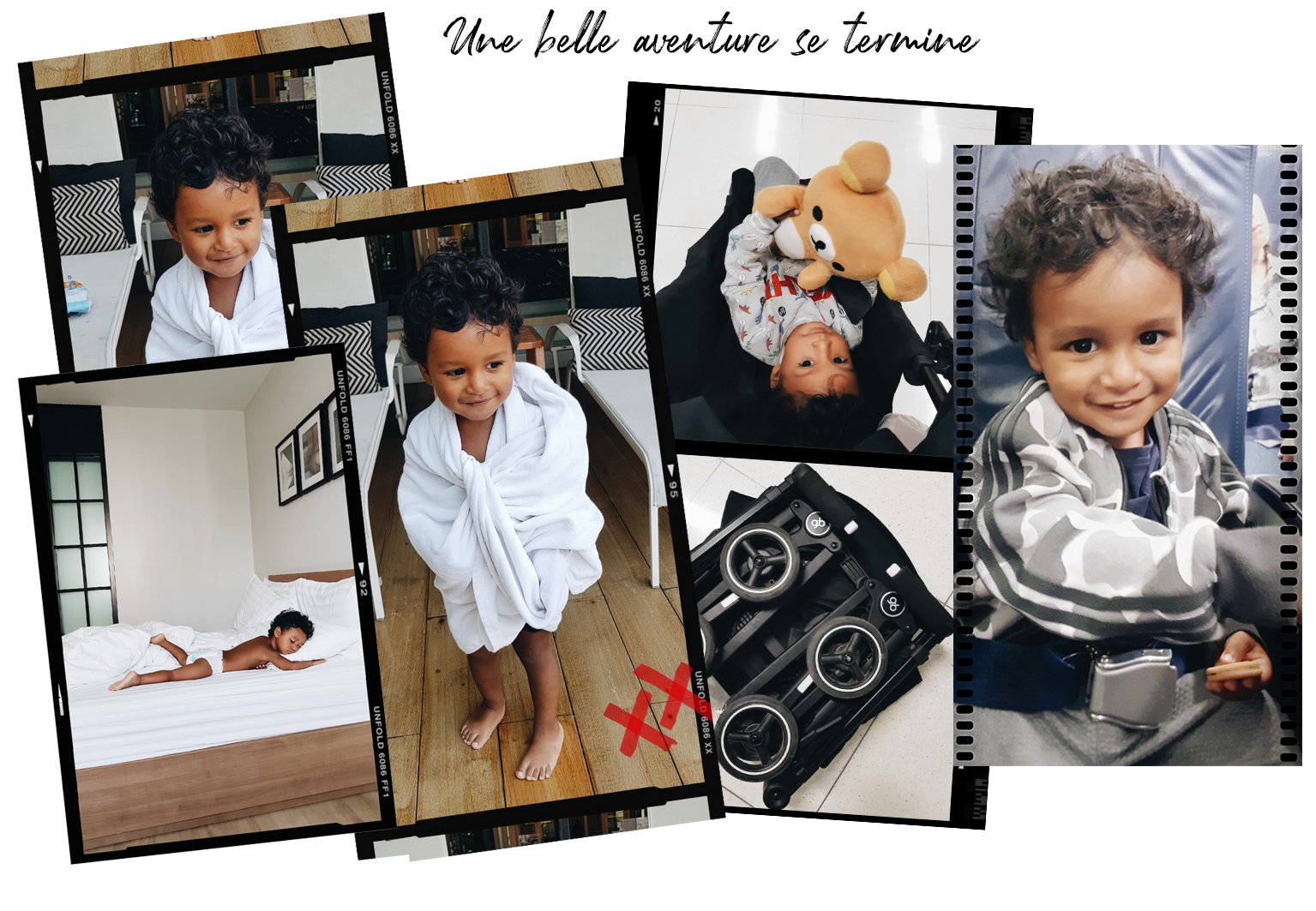 ---
Bali
,
beach
,
cambodia
,
road trip
,
road trip with baby
,
sihanoukville
,
single mom
,
single parent
,
travel blog
,
travel with baby
,
vietnam
---
You might also like
---