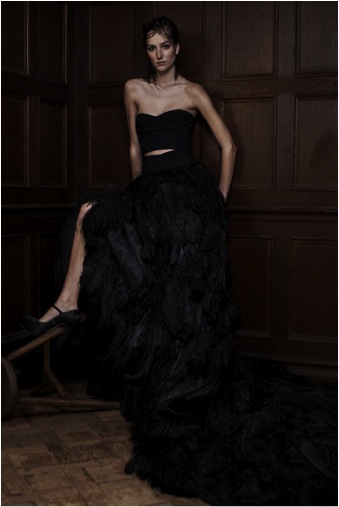 Retro wedding dress details from the spring 2016 runways 
Spring 2016 bridal looks offer an explosion of romantic, multidimensional, and creative details. The runways included an abundance of sheer layered fabrics, appliques, and plenty of lace. Tiered skirts, keyhole necklines, and watercolour prints provide dreamy silhouettes for brides.
Many of the standout styles have a vintage feeling to them, deriving inspiration from the ever popular 1920's jazz era along with a dash of 90's grunge. Here are a few of these retro details to admire.
The Slip Dress
Do you remember the "underwear as outerwear" craze of the 1990s? It's back in fine form, and you can see this influence on the latest bridal looks. Sleek slip dresses and corset-inspired gowns are ideal for warm weather weddings, and to modernize the lingerie look these dresses now include extra lace and sparkle.
Feathers
You'll feel ready for a Great Gatsby-style garden party in a fabulous feathered frock, one of the major retro-inspired trends this season. Designers like Vera Wang covered their ball gown skirts with layers of floating feathers, for a standout look that's a modern take on total roaring 20's glamour.
Long Sleeves
If you take a look at this infographic Vashi about the most iconic wedding dresses of all time, you may notice that many of the vintage styles had long sleeves. This look has come back into fashion, perhaps thanks to Kate Middleton's sheer lacy sleeves. For spring 2016, expect the sleeves to be accented with delicate beadwork and lightweight lace.
Pantsuits
Channel the 1970's look of Annie Hall in a bridal pantsuit, one of the standout trends of the runway from designers like Angel Sanchez. Don't worry though; these eschew the frumpiness in favour of excellent tailoring to flatter the bride. White tuxedo suits and jumpsuits embellished with metallic lace and chiffon make a strong statement and ensure that your wedding will be remembered.
---
---